The must-see exhibitions at London Design Festival 2017
London's Design Festival is known for celebrating innovation and blending new technologies with traditional methods of design thinking. Last year, Dutch designer and innovator Daan Roosegaarde was awarded the Design Innovation Medal. An idea from the year before – attaching air quality sensors in backpacks to pigeons has also come to fruition.
Now in its fifteenth year and running between September 16 and September 24, the Design Festival is once again bringing the best designers in the world to the capital. We've compiled a selection of our favourite events to go and see during the month. If there's any you think we've missed, get in touch.
Villa Wallala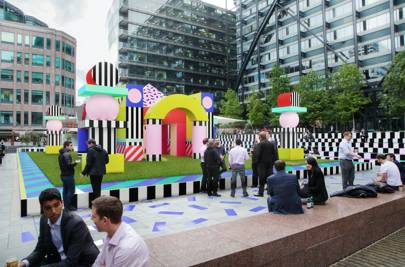 When Camille Walala was commissioned to install a piece in Broadgate in London she felt it needed some livening up. "I've never worked in an office before but I imagine it to be quite stressful," she says. For her installation, Villa Walala, a project in partnership with British Land, she wants to relieve some of that stress with what she's likened to "a giant stress ball." The piece is a large-scale vinyl structure, kept inflated by fans and is painted in bright colours to juxtapose the concrete surroundings.
"I wanted to create something where they could release their stress… something with a sense of humour, with really soft shapes and with a pastel tutti frutti colour palate." Her signature Tribal Pop style, the hallmark of London-based Wallala's work. aims to bring boundless energy to the space where it's presented. She hopes people visiting will take away a sense of joy and surprise. "They might feel they want to squeeze it or touch it, I just want to make people smile – it's so in contrast with the environment in the area." Villa Wallala can be visited at Exchange Square from September 16 to 24.
Drop By Drop
Drop By Drop, a self-contained photosynthesising system, features a plant inside a glass chamber that completes the photosynthesis process using a manmade light. The out is simple: clean oxygen and drinkable water. Created by students from RCA and Imperial College's Innovation Design Engineering course, the project will be displayed alongside their other works, from September 18 to 22.
Drink mixing robots
Inspired by Delia Derbyshire, who digitised the Doctor Who theme tune, this event features humanoid robots and acoustic science where robots mix cocktails using nothing but audio frequencies. It runs from September 16 to 24.
MYCELIUM + TIMBER
Sebastian Cox and Ninela Ivanova create pieces of furniture out of fungus. Known as 'grown furniture' the pair will exhibit their pieces made using a process called biofactura from mycelium and wood. "It's the idea that you can grow rather than make objects," Cox says. Each piece is created by the mycelium as it grows and binds the green wood waste together around a purpose-built frame. Right before it completely decomposes the wood, the piece is taken out of its mould and dehydrated to stop the rotting process. The final product is a lightweight, strong, almost like a plastic except it's completely compostable.
Cox and Ivanova will be showing what they've been able to achieve in just 18 months in the form of some lights and a stool. Cox says while it's still in the developmental stages he hopes it will generate some excitement that a product can be grown without power or energy. "If we could get mycelium to a stage where it could completely replace plastic, that would be enormously exciting." Visitors can see the furniture at Somerset House from September 18 to 24.
darc room
When fitting out a new space, lighting is complex. From September 21 to 23, darc room is an installation created to show off creative and high-end lighting. This will include Sunlight Graffiti from Studio Olafur Eliasson; a talk from Daan Roosgaarde; and the latest in sustainable lighting.
Source link