Open House London 2017: explore the city's hidden gems
For one weekend only, more than 800 London buildings are opening their doors so you can explore the city like never before.
From pussyhats to Pokémon: here's the shortlist for 2017's best designs
From pussyhats to Pokémon: here's the shortlist for 2017's best designs
---
Open House London is a city-wide celebration of most historically and architecturally interesting places, which are usually overlooked. Now in its 25th year, on Saturday 16 and Sunday 17 of September, the capital will be yours.
Whether you want to see inside Europe's largest biomedical research centre, a 1.2 million square foot innovation hub, or a renovated house that turns rainwater into a reflective pool, there's plenty to choose from. WIRED picked out a few of the best listings.
Sainsbury Wellcome Centre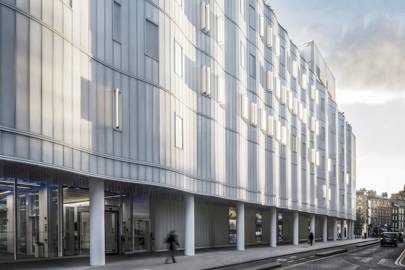 The Sainsbury Wellcome Centre for Neural Circuits and Behaviour investigates how neural circuits in the brain guide behaviour. The seven-storey building was designed by Ian Ritchie Architects and is covered with unique white cast glass.
The Centre can be found on Howland Street, near Goodge Street tube station. It is hosting a Q&A with the architects in the lecture theatre on Saturday 16.
Nordoff Robbins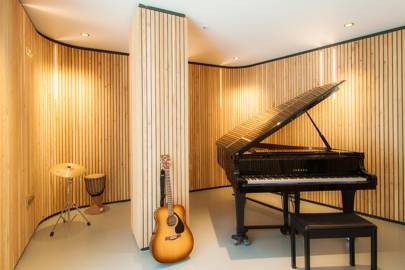 Located on 2 Lissenden Gardens in Kentish Town, The Nordoff Robbins London Centre is the largest music therapy centre in the world. It was refurbished with exemplary therapy rooms and is open to the public both Saturday and Sunday, with talks on music therapy and the architecture on offer.
The Bartlett School of Architecture, UCL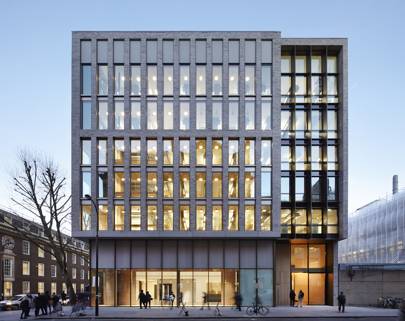 This school first opened in the 70s as 'Wates House' and was meant to accommodate 380 students and 90 staff. As more pupils joined, it started to feel a little cramped. So since 2012, HawkinsBrown have collaborated with UCL and The Bartlett to give the building a 'deep retrofit'.
It was fully re-clad with a skin of textured waterstruck bricks, a green roof and built an open, transparent ground floor to encourage public interaction. The building on 22 Gordon Street now has double the amount of teaching and research space. Pre-book for a tour on Sunday 17.
The Francis Crick institute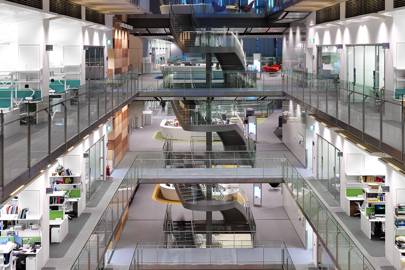 The striking building is one of Europe's largest centres of biomedical research. It sits in the heart of London, opposite St Pancras International station. Designed by architects HOK with PLP Architecture, the arched roof, rows of bay windows and distinctive steel, glass and terracotta-clad walls houses around 1,500 staff. Its research areas include genetics, synthetic biology, evolution and computational biology.
To keep carbon dioxide emissions low, The Crick uses an on-site combined heat and power system and is fitted with solar panels. The generous use of windows and glass also lets a lot of natural light in, and wild roof 'gardens' attract wildlife. There's not a staff car park on site, to encourage use of public transport. Visit on Saturday 16.
Here East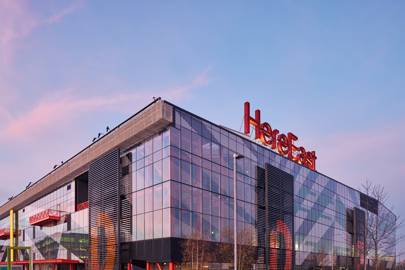 Here East was part of a scheme to renovate the former Press and Broadcast Centre on Queen Elizabeth Olympic Park. It is now a 1.2 million square foot technology and creativity campus, hosting tech giants, creative start-ups, artists and craftspeople. It's a hub of innovation, home to onsite businesses such as Gavin Turks studio, Plexal and Loughborough.
The building features a 16-metre deep 'crust' of work and retail spaces around the perimeter of what used to be a windowless Broadcast Centre. The pattern of the building is inspired by the optical illusions of military dazzle ships, and features over eight million dots. Take a campus tour or let your children 'make & create' on Saturday 16.
184 Shepherds Bush Road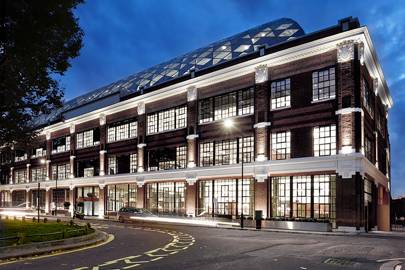 This dazzling building was once a Ford garage, built around 1915. McLaren was appointed to carry out the conversion of 184 Shepherd's Bush Road, which became 115,000 sqft of office space, set over 6 floors. The most striking feature of this Grade II listed building is its glass domed roof, which was designed and procured with Seele, Austria. It is now the European headquarters of customer science company, Dunnhumby.
Maggie's Centre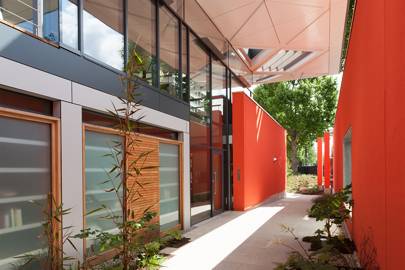 Maggie's Centre is a Royal Institute of British Architects (RIBA) award-winning space that's meant to contrast with Charing Cross Hospital that it's part of. Partitions divide up the open structure, placing the kitchen at its heart.
The centre offers support for people affected by cancer at any stage, whether that's the patients themselves or their friends and family. The roof is raised, so it appears to be floating above the rest of the building, and lets in lots of natural light. It is also lined with trees, to filter out noise and pollution and create a leafy scenery.
Sun Rain Room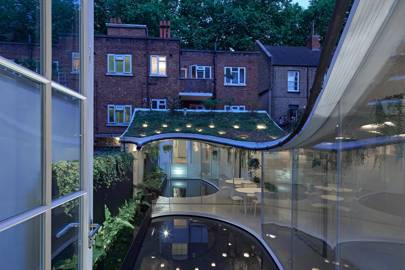 This Grade-II listed Georgian townhouse was given a two-storey extension and restoration to become The Sun Rain Room. A pipe on the roof collects rainwater, which follows the roof's curve down to a spout over a rainwater harvesting tank. The tank floods the patio at the push of a button, transforming it into a reflecting pool. Living here would make those rainy London days a little more uplifting.
Designed and constructed by Tonkin Liu, this uber-modern building serves as both a studio and a family home. Book an architect-led tour on Saturday 16 between 10am and 12:30pm.
Foster + Partners studio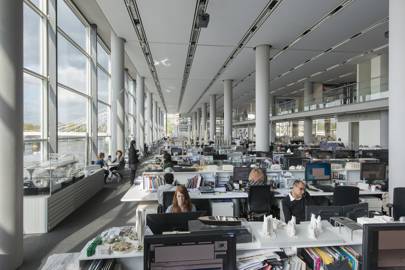 This architectural studio is 60 metres long and overlooks the River Thames. The riverside placement was kept in mind, and 13 desks are at right angles to the glazed wall to allow everyone a view. Part of a larger riverside building that has 30 apartments, the walls are lined with continuous windows to let in the natural daylight.
Foster + Partners employ approximately 1,250 staff worldwide with 1,000 of these based in London. It will open their doors to the public all weekend.
Isokon Building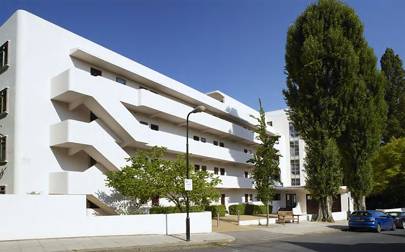 This Grade-I listed residential blocks of flats in Hampstead was first built way back in 1934, and cost just £14,850. Renovated by Avanti Architects in 2005, it was an early example of monolithic reinforced concrete construction, which was not used on this scale for domestic purposes in Britain before.
Commissioned by Jack and Molly Pritchard to Wells Coates it became the first 'International Style apartment building' in London. It was a community, home to many architects, designers, intellectuals and writers. Famous residents included Agatha Christie, Henry Moore and leading lights from the Bauhaus fleeing from Nazi Germany. Soak up the history of this once-radical building with regular tours between 11am and 3:30pm across the weekend.
Source link