iPhone 8 Plus review: it's kinda dull, but that's the whole point
If you are of a mind to anthropomorphise technology, you could almost feel sorry for the iPhone 8 and 8 Plus. They appeared for their moment in the spotlight, all gleaming and shiny with their new glass backs and wireless charging, ready to impress the fevered audience at Apple's Californian HQ earlier this month. Then, just as soon as they were announced, still giddy from the brief, baying adulation, no doubt, they were immediately made obsolete by the reveal of the better-looking, younger sibling: the iPhone X.
The all-screen iPhone stole the show, leaving some to ask why did Apple bother at all with updating the 7 in the first place? And so the iPhone 8 and 8 Plus slinked off-stage while everyone's attention was lavished on the sleeker successor.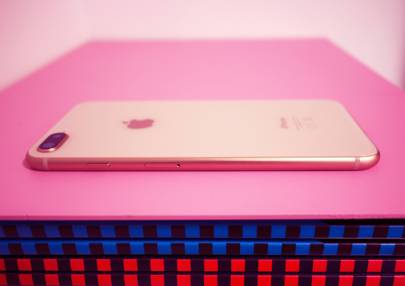 I can understand why some would question Apple's decision to create the new handsets, but there's actually some merit to the slightly-less-welcome iPhone 8 twins. People place such importance on new design, that while the aesthetic of the 8 leaves many non-plussed – after all, it looks identical to the 7 apart from the glass back (which will likely be hidden by a case anyway) – there are a good few upgrades here to talk about. So let's do just that.
You may also want to read our comparison of the iPhone X vs the iPhone 8 and iPhone 7.
Business as usual
One look at the iPhone 8 and 8 Plus and you will see nothing much has changed. The glass back has a much nicer feel than the metal one on the 7, and good news is the extra weight (14g from the 7 Plus to the 8 Plus) isn't noticeable. The Retina HD displays are identical, but now come with True Tone, Apple's ambient light sensor technology seen on the iPad Pro and designed to subtly adjust the on-screen white balance to match
 the colour temperature of the light around you, thus reducing eye strain. You also get the same ports and buttons.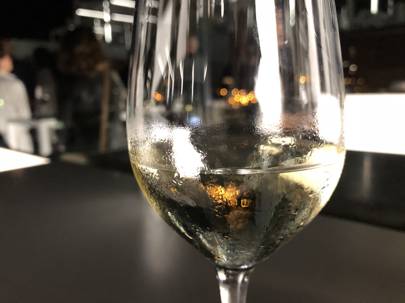 The battery life is comparable to the 7, too, even though it's supposedly slightly smaller – though it should be noted this is 40 per cent smaller than in the Samsung Galaxy S8. Expect full-day use for light to average workloads, much less if you ramp up the screen time. The advances in rival designs highlight the lack of change in the 8: the physical home button (already looking outdated after the new Galaxy and Essential handsets that have done away with them in favour of integrating these into the screen itself); the chunky bezels around the screen, which such a short time ago looked just fine, now, oddly, appear thick and ungainly. Such is the way with the rate of normalisation in technology, we all get used to improvements remarkably quickly. What was excellent yesterday can be mundane today. It's not entirely fair, but that's how it is.
Performance
The differences on the 8 and 8 Plus lie in the stuff you can't see, such as the new A11 Bionic chip – a six-core CPU with two performance cores (which are supposedly 25 per cent faster than the CPU performance cores in the A10 Fusion chip), and four high-efficiency cores that are supposedly up to 70 per cent faster. What does this mean? Good question. Well, before an iPhone could only do performance or efficiency. Now, this CPU can do both at once as well as call on all six cores simultaneously for a power boost. The end result is a noticeable uptick in performance and speed across the board. This is obvious right from the the off, as the 8 Plus reads my fingerprint and opens the phone up before I realise I have even made physical contact with the button.
The new Apple-designed GPU, Metal 2, has Core ML which lets developers integrate machine learning into their apps. The interesting thing here is that while it's more efficient to build this software into the hardware and have dedicated silicone for machine learning functions, Apple's decision to do this for the 8 was likely taken some three years ago. That's a canny move that many won't notice. This also leads me to the best improvement on the 8: the camera.
Visual skills
The combination of a new, bigger 12-megapixel sensor for improved video stabilisation 
and higher video frame rates means that although the 8's resolution is the same as before, the sensor is bigger than the 7's, so individual pixels are larger. This means it lets in more light, so in theory improving colours and less noise. And the pics are better, including in low light – though still not the best on the market in this regard.
The iPhone 8 has a solitary camera on the back with an f/1.8 lens. The Plus adds a second f/2.8 telephoto lens, which allows it to produce those soft-background and bokeh photos in Portrait mode (more of which below). Both models have serviceable 7MP front cameras for selfies and video calls.
Those higher frame rates I mentioned? Now 4K video can be shot at 60fps – double what was possible on the previous iPhone – and slo-mo video can be shot at 240fps at 1080p (up from 120fps). That internal neural engine comes into play for detecting scenes, bodies and faces while you go about trying to frame your shot. The Plus uses this added brain power to offer a new Portrait Lighting mode, still in beta, which uses facial landmarking and depth maps to let you take facial pictures and adjust shadows and lighting effects before or after the shot has been taken.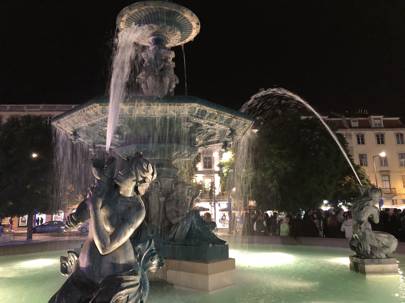 The mode has five settings: Natural Light where subject's face is in sharp focus against a blurred background; Studio Light, where subject's facial lighting is boosted; Contour Light, which amps up shadows with highlights and lowlights; Stage Light, where a spotlit highlights the face and the background is automatically faded to black; and Stage Light Mono, which puts Stage Light is black and white.
The effects, which are not filters because they aren't being added to the entire image, just parts of it, use the 8's neural engine and facial landmarking abilities to achieve these tricks. This feature often produces odd-looking results and it is clearly not quite ready yet, but the most impressive are the Stage Light options, as anyone who has tried to cut out a head from a pic in Photoshop will know. Here the entire process is done instantly. It doesn't always do amazingly on fine hair detail when cutting out, but contrast is key here – make it easier for the iPhone to discern what is hair and what is background in your composition, and the results are impressive. Not as impressive as the ones Apple uses in demonstrations, mind you. I couldn't not get anywhere near as good pictures as the official Apple images "shot on the iPhone 8". And you may struggle, too. But the upshot is that the camera has certainly been improved.
Augmented reality
The few AR apps that are available work smoothly on the 8s, which is hardly surprising as the phones were built with this ability in mind. Apart from arranging IKEA furniture in random places, new games using ARkit such as ARise and The Machines require you to physically hop about to either see the action taking place or move platforms into correct positions from a certain perspective. It's fun, but only for a short time, and then quickly becomes impossible/embarrassing when on the train or in any sort of company where you don't want anyone to know what a geek you are being.
Wireless charging! Yes, Apple has finally been dragged into the wireless charging world. It's fun to see Apple launch a new feature firmly established in most competitors and through clever language choices make it appear they have discovered a new seam of technological gold. That glass back means that the 8s are compatible with Qi chargers found in some cars, cafés, hotels and pieces of furniture. This is very welcome, and well done Apple for finally seeing sense. The downsides are noticeably increased charging times when you go wireless and the charging pads themselves, when not incorporated into interior products, are ugly. Even the AirPower mat is no looker.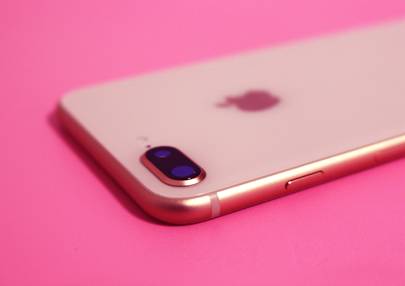 Wireless charging is not a game-changer, as some have called it, but what it will do is finally convince those shops/bars/cinemas/cars, etc. not currently supporting wireless power to get on with it and install the tech so that hopefully, pretty soon, society can get to a point where we need no longer carry cables around to get vital juice top-ups. The addition of wireless charging also means less strain is placed on the phone's Lightning port, which can be a common point of failure on Apple devices. How tough the glass back is remains to be seen, too.
Conclusion
With the iPhone 8 and iPhone 8 Plus, Apple now has an iPhone available for every budget – running from the £350 SE to the coming X for £1,000 – and this in undoubtedly the strategy: whatever your financial situation, there's an iOS option on hand. Yes, the iPhone 8 and iPhone 8 Plus look practically identical to the iPhone 7 and iPhone 7 Plus (which in turn look just like the iPhone 6), so if you're one of those who wants people to know you have the newest handset, unless you're coming from an iPhone 5S, there's little point in upgrading. But for those looking for the fastest iPhone, and perhaps cannot stomach the price tag of the coming X, the iPhone 8s look like a good bet. It's not exciting, and doesn't make my socks roll up and down, but the 8 plays its part – for now anyway.
Source link